You'll be receiving some fresh spinach, bursting with nutrition and flavour, in your April 14 WE Box. Although I am usually happy either sauteing it with some onions and garlic and pine nuts or tossing it raw with copious amounts of oil, balsamic vinegar,nutritional yeast, walnuts and avocado, I thought it would be nice to highlight a few other ways we can work with spinach:
Spinach Salad with Garlic Dressing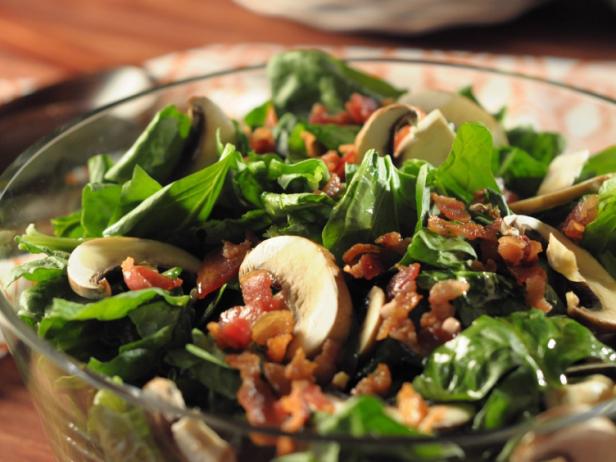 Total:25 min
Active: 25 min
Yield: 6 servings
Level: Easy
Ingredients
8 ounces bacon
3/4 cup olive oil
1/4 cup red wine vinegar
Pinch salt and pepper
Pinch salt and pepper
1 clove garlic, minced
1 pound leaf spinach, tough stems removed
8 ounces mushrooms, thinly sliced
Directions
In a medium skillet, cook the bacon over medium-high heat until just crisp. Drain on paper towels and crumble when cool enough to handle. Set aside.
In a small bowl, whisk together the oil, vinegar, salt, pepper and garlic.
Wash the spinach leaves very well and spin dry. Tear the leaves into small pieces and place in a medium salad bowl. Add the mushrooms and bacon, and toss to combine. Pour 2/3 cup of the dressing over the salad (reserve the rest for another use) and toss again. Serve immediately.
---
Spinach and Edamame Egg Drop Soup
Ingredients
6 cups chicken stock, preferably homemade
1 tbsp. finely grated ginger
1 1⁄2 tsp. kosher salt, plus more to taste
1 1⁄2 tbsp. cornstarch
1 tbsp. soy sauce
1 tbsp. toasted sesame oil
3 eggs
2 cups (2 oz.) baby spinach
1 1⁄2 cups cooked, shelled edamame
4 scallions, thinly sliced
Directions
Bring stock, ginger, and 1 tsp. salt to a boil in a 4-qt. saucepan. Stir cornstarch and soy sauce in a bowl until smooth; whisk into stock, cook until slightly thickened, 1–2 minutes, and remove from heat.
Whisk remaining salt, the sesame oil, and eggs in a bowl. While gently whisking broth, slowly add egg mixture to scatter eggs as they cook. Stir in spinach and edamame until spinach is wilted, about 1 minute; season with salt. Divide soup between four bowls; top with scallions.
---
Spinach Quiche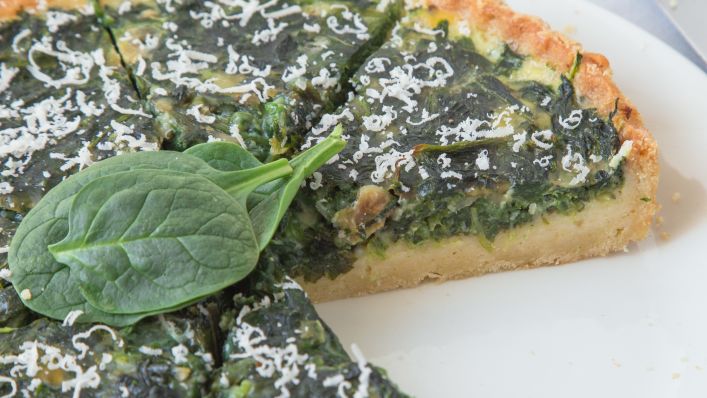 Ingredients
1 ready-made pie crust (I use Pillsbury)
3 tablespoons butter
1 small onion, chopped
1 cup frozen chopped spinach, thawed & drained
1 garlic clove (pressed, using garlic press)
6 eggs
1 cup milk
2 cups shredded colby-monterey jack cheese
salt & pepper
Directions
Pre-heat oven to 375 degrees.
Press pie crust into 9″ pie pan.
Pre-bake pie crust for about 10 minutes. Set aside.
Sautee onion, garlic & spinach in butter until onion is soft – add salt & pepper to taste – set aside.
In medium mixing bowl – whisk together the eggs & milk.
Spread shredded cheese in bottom of pie crust.
Spread spinach mixture over cheese in pie crust.
Pour egg/milk custard over spinach mixture & cheese.
Bake at 375 degrees for 35 minutes. If crust starts to get too brown – cover edges with tin-foil.
Slice & serve.
---
Hot Spinach and Artichoke Dip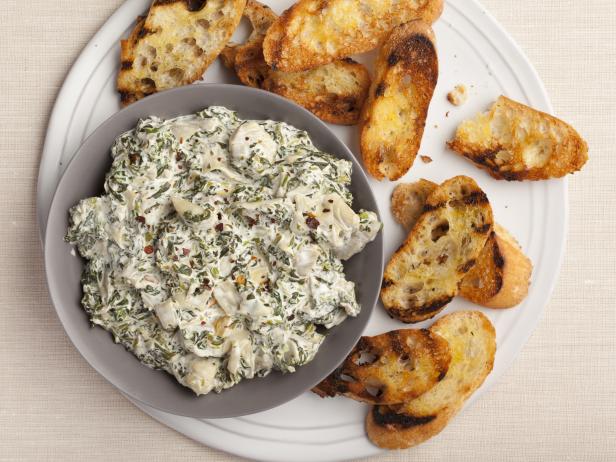 Ingredients
1 cup thawed, chopped frozen spinach
1 1/2 cups thawed, chopped frozen artichoke hearts
6 ounces cream cheese
1/4 cup sour cream
1/4 cup mayonnaise
1/3 cup grated Parmesan
1/2 teaspoon red pepper flakes
1/4 teaspoon salt
1/4 teaspoon garlic powder
Directions
Boil spinach and artichokes in 1 cup of water until tender and drain. Discard liquid.
Heat cream cheese in microwave for 1 minute or until hot and soft.
Stir in rest of ingredients and serve hot.